01
Unique Gameplay and TCG for Gamers & Collectors
Welcome to the first TCG designed for the new era of collecting, physical and digital; phygital. Underground Waifus is the first TCG designed with limited and unique collections. Each new edition, or a special collaboration, will have a unique edition, and each card and its content are different. Being a phygital collection, the player will have all the experience of NFT and web3 in terms of digital property and the physical experience since the displays will be printed in the future to the owners. Finally, combined in a unique themed card game offers the first phygital TCG experience.
We can find all cards in the Underground Waifus marketplace, where you can bid and make offers. The supply of each card is limited, and the cards can be burned for profit in other collections or upgrades, so hurry up!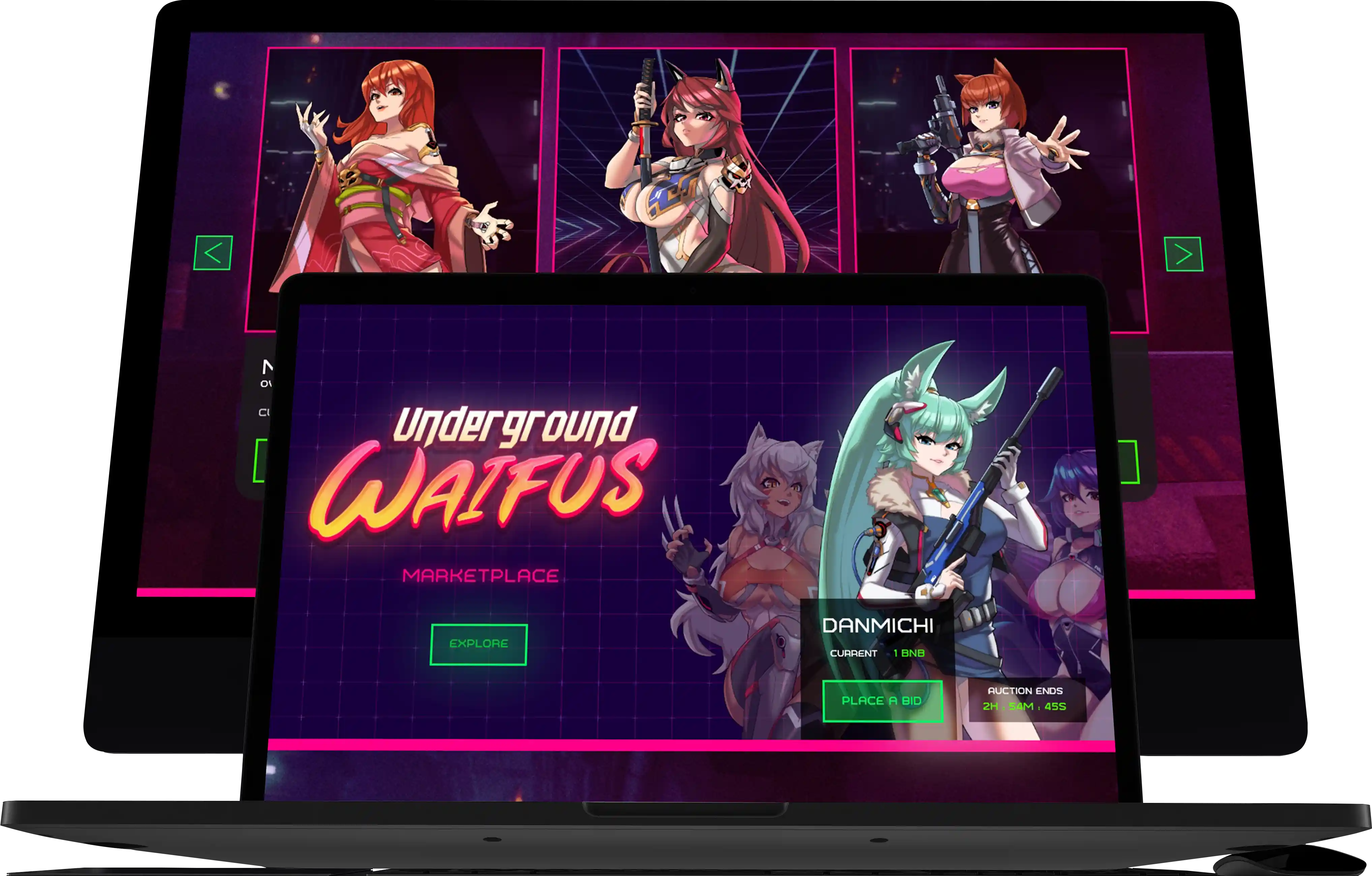 SCHOLARSHIPS: RENT YOUR DECKS
Underground Waifus allows the possibility of renting the assets you do not use, allowing other players to access the professional side without entry barriers. Select your deck, and new players will apply for its use. Based on stats, decide which player is the right player and define a time frame and minimums to start earning profitability.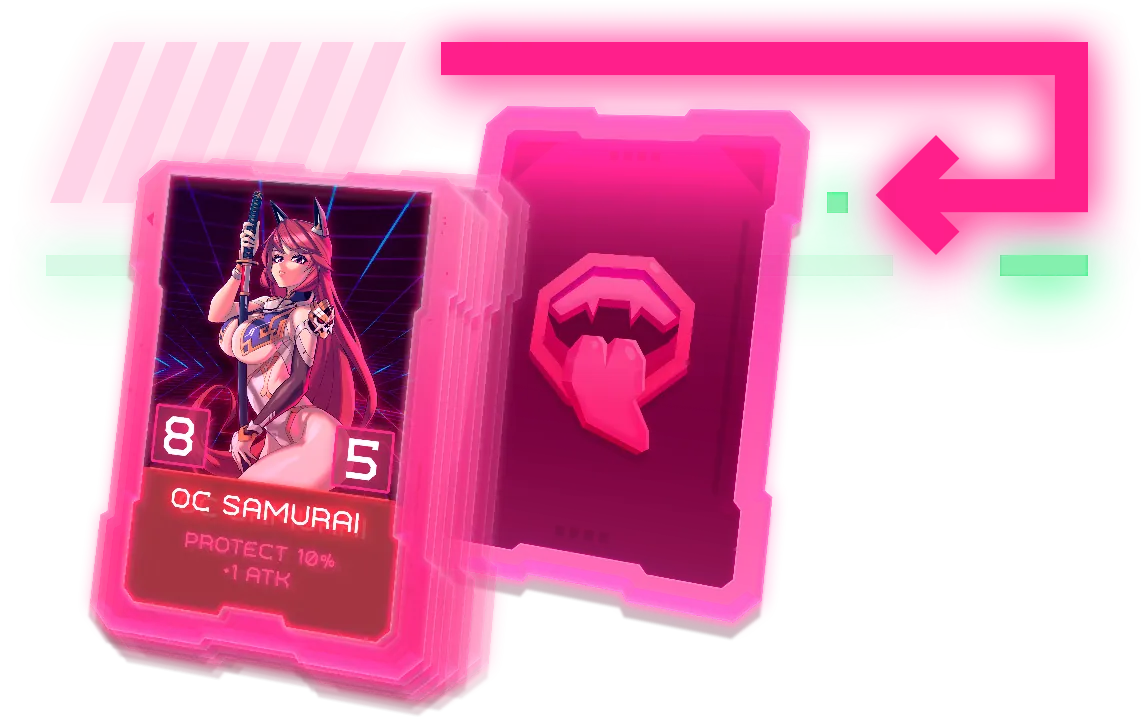 Game Modes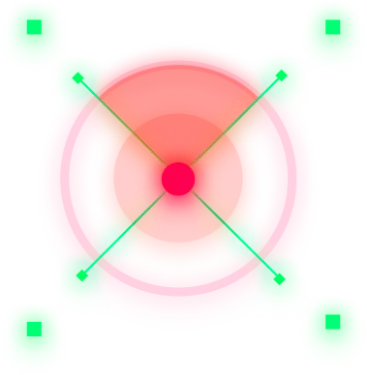 seasons
Every 15 days, a new season opens in Underground Waifus. These tournaments are determined by victories obtained by ELO, where only the best players will receive prizes each season. The % of awards and their amount will be determined by how many total players host the season. The operation is simple. PVP battles are limited daily. This limitation is given by ten cumulative matches per day, making it unnecessary to play them every day and that each player manages as he wants his time. Even if a player wanted to play all 300 battles on the last day, he could do it.

pvp
The player who wins the match takes all. These are PVP (player vs. player) battles with the same matchmaking used in the SEASON's battles, i.e., ELO battles, along with the total deck level and corresponding cards. To play these battles, you need tournament tickets previously purchased with the token in the Underground Waifus store from the website. There are several entry levels with different costs.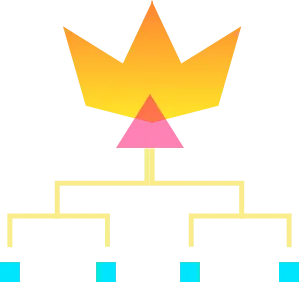 rankings
Se trata de torneos multijugador con una bolsa de premios y un límite mínimo de jugadores. Pueden ser freerolls (entrada gratuita) o entradas de pago. Dentro de estos torneos, tenemos varias modalidades, partidos determinados por nivel ELO, y pagos con tickets de entrada o tickets de acceso libre. También, partidas sin ELO, en las que todos los jugadores reciben los mismos sobres al inicio del torneo, y los mazos se confeccionan en función de lo obtenido en dichos sobres. Al final de la partida, las cartas se descartan.

q1 2023
TOKEN ADOPTION (GQ)
TECH DEMOS
q2 2023
- LAUNCH TOURNAMENTS
- LAUNCH ANDROID APP ON F2P (GOOGLE PLAY)
- LAUNCH OF STEAM GAME
CREATION OF NEW CARDS
q3 2023
- 1ST SPONSORED TOURNAMENT
- CREATION OF IOS APP FOR F2P
- LAUNCH APP IOS
- MARKETPLACE LAUNCH
- INTRODUCTION OF NEW BLOCKCHAINS
- PUBLIC BLOCKCHAIN AND PLAY AND EARN LAUNCHMENT
q4 2023
- LAUNCH SCHOLARS
- LAUNCH OF SPONSORED COMPETITIONS
- DEPENDING ON RESULTS, PHYSICAL GAME PRINTING
- IN-PERSON TOURNAMENT
- UPDATE OF APPS AND PC VERSIONS
legendary
contains 8 cards
The Underground Waifus team is a multidisciplinary team with several years of experience in the gaming world and the development of blockchain technologies. It is a unique collaboration between professionals with industry-leading projects.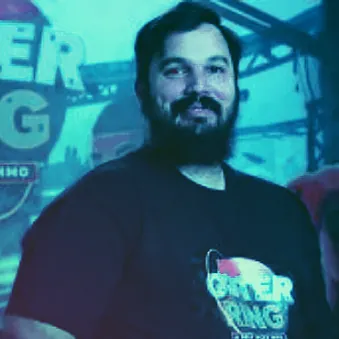 Daniel Valdes
CEO of Outer Ring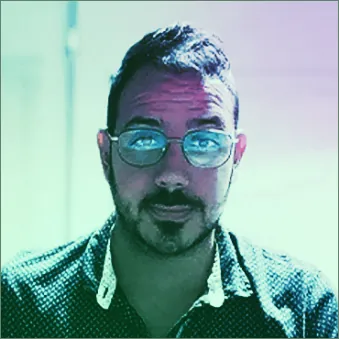 Oliver Perez
CEO of warlands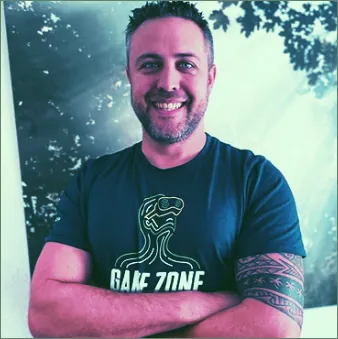 Jeffrey Van Eeden
CEO Gamezone
Successful projects are possible thanks to the support of great companies and the enthusiasm and talent of the team members. In this project, we are fortunate to have great and talented partners who trust the team and have given us a lot of help.